Table Fries.
Guest: Jackie Glenn
Episodes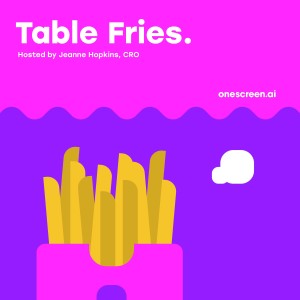 Tuesday Nov 26, 2019
Tuesday Nov 26, 2019
Jeanne's guest is author, speaker, Jackie Glenn tells her story in her new book, "Lift as I Climb." Jackie Glenn is a highly accomplished Human Resources Executive practicing across the HR spectrum including HR Strategic plans, Talent Development, and Diversity and Inclusion. She is currently Vice President/Global Chief Diversity Officer for EMC Corporation. In this position, she leads EMC's worldwide diversity and inclusion strategy, continuously reinforcing global diversity and inclusion as a business imperative. Through collaboration with senior leadership on assessment, action planning, and cultural change, she designs and delivers creative initiatives tied to the development of an innovative and inclusive workforce, as well as related components of talent management, employee relations, change management and compliance. Jackie joined EMC in 2000, as the Director of HR Operations for the Sales Division. In that capacity, she provided strategic and tactical Human Resources support to EMC sales groups, comprising more than 2,000 employees at both domestic and international sites. 
Jackie puts her time in with various organizations to continue this effort, Children's Services of Roxbury, Girls Scouts of Eastern Massachusetts, the African American Museum-Boston, and the Greater Boston Sickle Cell Anemia boards all benefit from her insights and experience.
Overall, in her 20 plus year career across the Human Resource spectrum, Jackie has managed and implemented programs in Employee Relations, Training, and Development, Recruiting, Organizational Development, and Consulting and Coaching. Her leadership as the VP, Global Chief Diversity Officer at EMC has introduced best-in-class practices, which includes the development of several groundbreaking efforts, including the design and implementation of an innovative and mandatory D&l curriculum, institutionalization of the company's Transgender Reassignment Program, the launch of its High Potential Women's Programs and expansion of employee resource groups.
___________________________________________
Connect with Jackie on LinkedIn.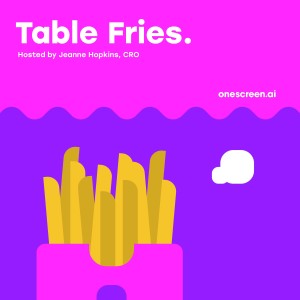 Wednesday Nov 13, 2019
Wednesday Nov 13, 2019
In this special episode of Table Fries, Jeanne's guest is author, Jackie Glenn. Right out of the gate Jeanne asked her for the one word that describes her. Authentic. You'll have no doubt after this episode that authentic is the perfect word for her. She admits that sometimes she may not be nice, depending on when you catch her in the day, but she'll always be an authentic truth-teller. Jeanne and Jackie talked about the inspiration for her book, Lift as I Climb (available on Amazon here). In this episode, you'll hear the wise advice she'd give her 18-year-old self, what a good day looks like. The answer - "When I've impacted the next generation." You'll also hear about the pivot that led her to where she is today as a highly respected Diversity, Inclusion & Corporate Culture Strategist. Tune in.
About Jeanne's guest, Jackie Glenn:
As Founder and Principal of Glenn Diversity Inclusion & HR Solutions, she provides corporations and individuals thought leadership in the development and execution of strategies, programs, and best practices needed to create inclusive and effective corporate cultures by attracting and retaining diverse workforces. She is also a speaker and host of national and international conferences and panels.This comes after a 19-year career at EMC, where she began in human resources and advanced to the C-Suite, eventually becoming Vice President & Global Chief Diversity Officer at Dell EMC. As stated in her recent book, Lift As I Climb: An Immigrant Girl's Journey Through Corporate America, "There is a special place carved out that only you can fill." Her adaptation to American culture as an immigrant from Jamaica cultivated skills and insights that uniquely qualify her to help her company create a diverse workforce that would retain top talent from the United States – a nation of immigrants – and around the globe.
Connect with Jackie Glenn on LinkedIn.