Table Fries.
Guest: Liz Mongrello
Episodes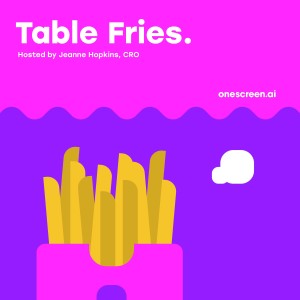 Wednesday Jun 26, 2019
Wednesday Jun 26, 2019
It's never a dull moment with Liz Mongrello. Whether you found her singing around the office or onboarding a crew of new Lola team members, she's always bringing a cheerful attitude to her work. Listen to her conversation with Jeanne Hopkins, on the newest episode of Table Fries for a deep dive into Liz's thoughts on her experience in the past roles, love for a cappella, and much more.
About Jeanne's guest:
Liz Mongrello was the Office Manager at Lola.com, where she worked to create and maintain a space for Lola's awesome team to do their best work and have fun doing it. Before settling into her role caring for the Lola crew, she supported their customers as part of the service and product teams. Prior to coming to Lola, Liz spent five years at the Apple Store on Boylston Street working in business sales and operations as well as team onboarding, training, and development. In her spare time, you'll find Liz putting her music degree to work with Boston-based a cappella group, Fermata Town.
Connect with Liz Mongrello on LinkedIn.