Table Fries.
Guest: Jenna Cason
Episodes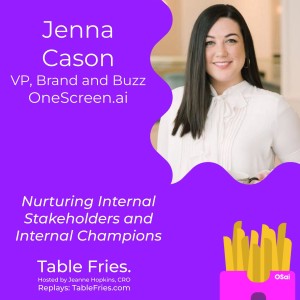 Tuesday Apr 05, 2022
Tuesday Apr 05, 2022
When Jenna was riding a beautiful wave of success with her own PR and Marketing firm, she hadn't planned on joining the team for one of her favorite clients. The timing was right, with some personal traumas she was walking through to sell her 3-year-old firm and join OneScreen.ai doing what she does best - media training, strategies and long-term messaging planning. Not one regret for that decision she made 4 months ago. Hear her story and about the joy she has herding cats.
About Jenna Cason:
A decade ago, she dove headfirst into the world of PR and crisis communications when she worked for an NFL team straight out of college. By the age of 25, she had consulted with the NFL on PR strategy for multiple Super Bowls, served as the spokesperson for a multi-billion dollar technology company, and landed a senior-level position as the Director of Corporate Communications for a SaaS company. In just 10 years, she has run marketing and PR for over 100 companies and brands...in professional sports, consumer products, B2B and B2C technology, manufacturing, finance, fitness, and retail, to name a few. Today, she's onboard the rocketship at OneScreen.ai as their VP of Brand & Buzz.